Santa's Village Santa's Goodbye
Santa's Village Dundee has reopened! See our Santa's Village Links page.
"Leave your cares behind and let them fade away Santa's Village will always be just a dream away!"
My Dear Friends,
Santa's Village is now a part of our collective memories. The recent efforts to save the Park have come to an end. All parties made a gallant attempt. At this time Santa's Village is closed not knowing when or if the Park will ever open again.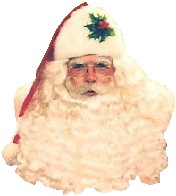 On Memorial Day, May 30, 1959, Mrs. Claus and I made Santa's Village in Dundee, Illinois our official home. The Park was the third such village built by Glenn Holland of Crestline, California. Skyforest, California 1955 was the first (closed 1998) and Scotts Valley, California in 1957 (closed 1979) was the second. The first few years our Village in Dundee was open 364 days a year. Over time the season was shorten to the more commonly known schedule.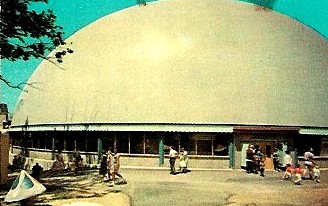 A lot has changed in the 47 years since Santa's Village first opened. The Polar Dome Ice Arena, completed in February 1963, added a new state of the art ice rink to the property. The Dome had a huge inflatable roof that was at the time the largest in the world. Sadly a storm came through the area in 1966 and tore the space age material. A year later a flat roof was added.
Attractions of Santa's Village have come and gone. Some of you might remember the Christmas Tree Ride, the Pony Carts, and the Candy Cane Sleigh. How about the Pumpkin Coach or the Swiss Toboggan. Some of the attractions have endured over time, such as the Snowball Ride, Santa's House and of course the landmark of the Park – the frozen NORTH POLE!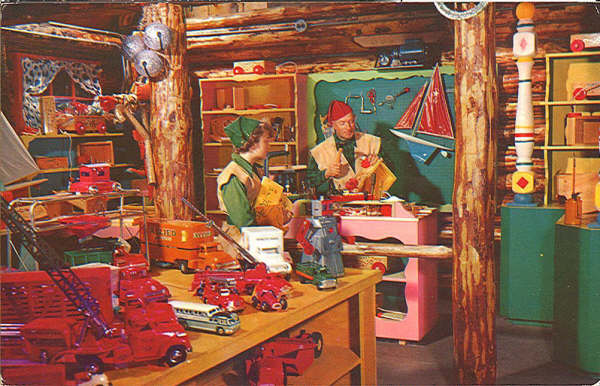 You might have worked at Santa's Village over the years. Ride operators, shop workers, and food service hosts have added to the Park's history. In the early days, pixies and elves helped our little visitors. Later our helpers wore brightly colored shirts and shorts. It is amazing that more than 11,000 teenagers and adults have worked at Santa's Village. Thank you all!
Numerous people have contributed to the longevity of Santa's Village. Most of them have worked behind the scenes. We thank them for their talents and contributions: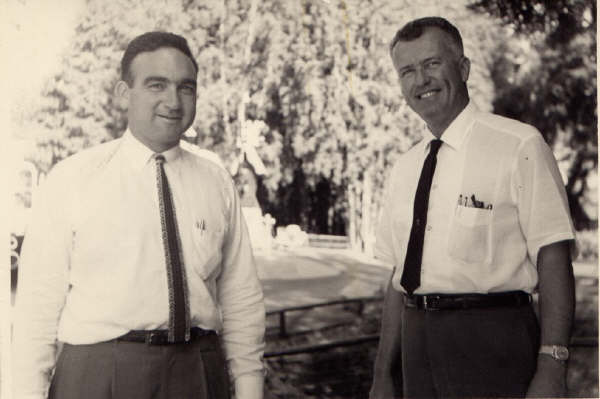 Owners - (1959) Santa's Village Corporation of California, Glenn Holland and General Contractor J. P. Henck, (1965) Durell Everding Management, (1972) Barney Clark and the Medina Investors, and (1978) North Pole Corporation: Hugh Wilson and Philip Oestreich.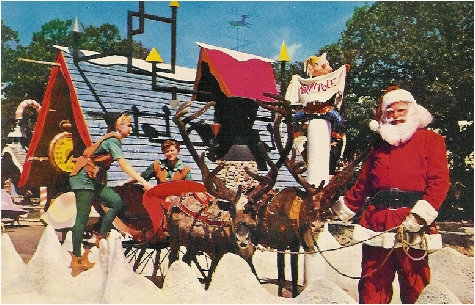 Park General Managers – Charles L. Poe, Ray Van Royce, Jack Morningstar, and Mr. Don Holliman, who for 31 years served as General Manager for Santa's Village and 35 years as General Manager with the Polar Dome Ice Arena. Crystal Varney who worked at the Park for more than 30 years in numerous venues such as group sales, personnel, and more recently as Director of Operations.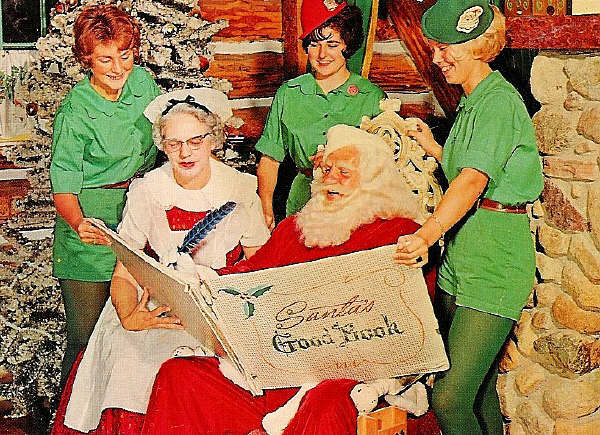 My Santa Claus predecessors – James L. Combs, Eric John Lavoie, and the wonderful Don Goers. Plus Alan Payne and others who filled in from time to time.
Santa's Village has welcomed over twenty million guests. Children of all ages have been entertained and memories have been made. Folks who visited us in 1959 have brought their children, grandchildren and even some great grandchildren through our doors. On behalf of employees, management, and owners, I personally thank all of you that have made Santa's Village a childhood icon. We bid you a fond farewell and goodbye. And to all those who will keep Santa's Village in your heart forever…remember… "Leave your cares behind and let them fade away Santa's Village will always be just a dream away!"
With our Warmest Regards to Children of all ages,
Santa Claus
---
Santa's Village takes great pride in presenting the book that commemorates the Dundee Santa's Village in Illinois. It's written by the last Santa Claus of the Santa's Village parks, and his historical knowledge of all the parks will delight you with insidghts and memories alike. Get your copy of Santa's Village here.
Images of America
SANTA'S VILLAGE
PHILLIP L. WENZ
Since 1959, Santa's Village in Dundee, has entertained millions. The park was born of a man who as a child had no real Christmas. Glenn Holland grew up in California during the Great Depression. His parents died by the time he was 18 years old, leaving him to care for his younger sister. As a father, he tried to give his own children the type of Christmas that he only knew in his dreams. In the early 1950s, struck with inspiration, Holland sat at his kitchen table one day and started to sketch his idea for a Christmas fairyland where all the magic of the holiday would come to life: Santa's Village. Holland and general contractor Putnam Henck built three Santa's Villages, two in California and one in Dundee.

Phillip L. Wenz is the Dundee Park's resident Santa Claus and official historian. Besides his duties at Santa's Village, Wenz has been seen in numerous televised parades and national holiday events. Utilizing his personal collection of pictures, memorabilia, and rare park photographs, readers can once again reminisce about the fun of Santa's Village throughout the years. It is all here, the Christmas Tree Ride, the twirling Snowballs, Santa's House, and the Frozen North Pole.
The Images of America series celebrates the history of neighborhoods, towns, and cities across the country. Using archival photographs, each title presents the distinctive stories from the past that shape the character of the community today. Arcadia is proud to play a part in the preservation of local heritage, making history available to all.