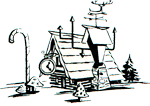 .
Santa's Village Santa Claus Dundee
Growing Up Santa Claus
It all started in 1966 at the age of four in Havana, Illinois when Santa asked his mother to help him make a Santa Claus Outfit. They took an old red flannel shirt of his father to use as a coat, a pair of red pajamas, black goulashes, and a white handkerchief safety pinned to a Santa hat as whiskers.

Later that day, Santa used a pillow case as a toy sack filled with candy canes and snuck out of the house to visit neighbors. Crossing the street he approached the home of a family friend and entered the house to their surprise. Taking it all in stride, they were happy to have a visit from "Santa". Then immediately phoned his mother.

The four year old made numerous visits that Christmas to friends and family. His father, who was a hospital administrator, allowed him to visit the hospital and pass out greetings to patients. That tradition continued until 1988 when his father retired.
The next year his father took over a new hospital in Watseka, Illinois. Santa entered school that year and started a string of classroom parties that stretched to his high school graduation in 1981. By the fifth grade he was asked to do pre-schools and area nursing homes. His reputation as Santa had grown by the time he entered high school in 1977. The Watseka Area Chamber of Commerce asked if he would be interested in doing their Santa house promotion in downtown. At the age of fourteen he was in his first parade and for the next eight years he played Santa for the chamber.

Shortly after leaving college in 1985, Santa was hired by Instant Photo Corporation of America in Deerfield, Illinois. His job was to train Santas and set up holiday promotions in the Chicago area. Working major department stores, corporate events, and shopping malls he added valuable experience to his character development. One of Instant Photo's accounts in 1985 and 1986 was Santa's Village. This was the start of his year round Santa career. In 1989 he formed his own company and was contracted to be the resident Santa at Santa's Village in Dundee, Illinois.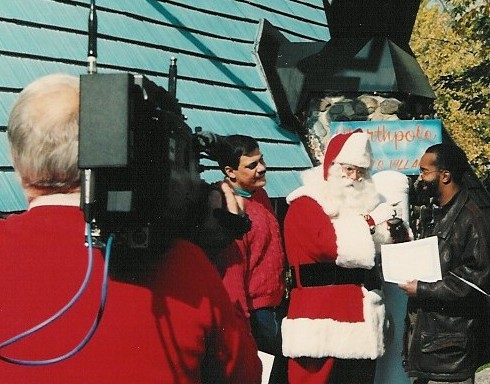 Santa went on to a career that includes nationally televised parades, commercials, and appearances in some of the nation's largest markets.
Santa Claus Visits For...

Parties
Schools
Company Gatherings
Parades
Business Promotions
Private or Civic Organizations
Home Visits
Hospitals
Residence Homes
Community Events
Churches
All Occasions
Available in the Off-Season For...

Trade Shows
Christmas in July
Theme Parks
Advertising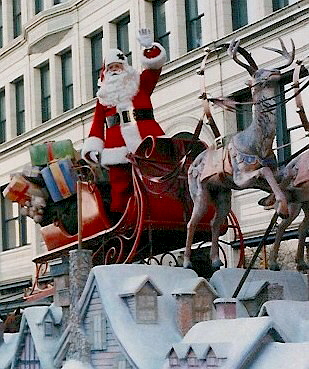 Santa's Career Profile

Appeared in 25 parades, including nationally televised parades in Chicago, Illinois and Houston, Texas.

Emceed the Christmas Tree Lighting Ceremonies in Chicago and Houston.

Appears in character on TV shows, billboards, commercials, and magazine covers.

The year-round Santa Claus at Santa's Village Theme Park in Dundee, Illinois. 2006 marked his 20th year of association with the Park.
Appears as Santa at some of the nation's largest department stores and shopping malls.

A guest at some of the top corporate holiday events and parties.

Given the title of "Chicago's Very Own" by WGN-TV and the City of Chicago in 1993.

A technical advisor on the recent remake of "Miracle on 34th Street" for 20th Century Fox.

Part of the team that received the 1994 Brass Ring Award for Theme Park Commercials by the International Association of Amusement Parks and Attractions (IAAPA).

Received the "Hats Off 2 Houston" Award in 1997 from KPRC-TV in Houston.

Media Includes:
37 Television Appearances
24 Commercials
8 Magazine Covers
1 Billboard
6 Brochures
5 Print Ad Campaigns
Conducted or lectured at 14 Santa Claus Schools

Education
North Central College of Naperville, Illinois
Business Marketing

What people have said about Santa Claus Phil
Phil Wenz is Santa Claus and one of Chicago's very own."
WGN-TV Channel Nine, Chicago, IL

"No one can pull The Santa Act better."
Chicago Tribune, Chicago, IL

"The Master Santa!"
Daily Herald, Arlington Heights, IL

"We got tons of compliments. They just loved him."
Terri Kaminski, Brach's Holiday Parade, Chicago, IL

"Phil Wenz is the most authentic Santa in the Chicago area."
The News Sun, Waukegan, IL

"Don't tell the kids, but we've got the real Santa for our parade, Phillip Wenz of Chicago."
Houston Chronicle, Houston, TX

"We are proud to have you as our Santa for our parade."
Virginia Calton Ballard, Bank United Thanksgiving Day Parade, Houston, TX

"Wenz has turned Santa into his life's work."
Naperville Sun, Naperville, IL

"The official Santa to the City of Houston."
Susan Christensen, City of Houston Tree Lighting

"You really must be Santa Claus."
Debby Winans, Chicago Christmas Parade Association

"This Santa is the real thing."
Niles Spectator, Niles, IL

"As far as we are concerned, he IS Santa."
Golfmill Shopping Center Association, Niles, IL

"He's as close to Santa as you can get."
Ron Zaccard, Springhill Mall, Dundee, IL

"The nation's foremost practitioner and student of the Claus arts."
Eric Zorn, Tribune Media Service, Chicago, IL

"A man who needs only one introduction. Santa Claus."
Jim Shean, Chicago's Mayors Office of Special Events
---
Santa's Village takes great pride in presenting the book that commemorates the Dundee Santa's Village in Illinois. It's written by the last Santa Claus of the Santa's Village parks, and his historical knowledge of all the parks will delight you with insidghts and memories alike. Get your copy of Santa's Village here.
Images of America
SANTA'S VILLAGE
PHILLIP L. WENZ
Since 1959, Santa's Village in Dundee, has entertained millions. The park was born of a man who as a child had no real Christmas. Glenn Holland grew up in California during the Great Depression. His parents died by the time he was 18 years old, leaving him to care for his younger sister. As a father, he tried to give his own children the type of Christmas that he only knew in his dreams. In the early 1950s, struck with inspiration, Holland sat at his kitchen table one day and started to sketch his idea for a Christmas fairyland where all the magic of the holiday would come to life: Santa's Village. Holland and general contractor Putnam Henck built three Santa's Villages, two in California and one in Dundee.

Phillip L. Wenz is the Dundee Park's resident Santa Claus and official historian. Besides his duties at Santa's Village, Wenz has been seen in numerous televised parades and national holiday events. Utilizing his personal collection of pictures, memorabilia, and rare park photographs, readers can once again reminisce about the fun of Santa's Village throughout the years. It is all here, the Christmas Tree Ride, the twirling Snowballs, Santa's House, and the Frozen North Pole.
The Images of America series celebrates the history of neighborhoods, towns, and cities across the country. Using archival photographs, each title presents the distinctive stories from the past that shape the character of the community today. Arcadia is proud to play a part in the preservation of local heritage, making history available to all.
Sponors of Santa's Village:
Christmas Kids - a delightful website full of historical information about Christmas.