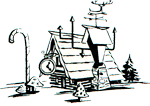 Santa's Village Pupeteers to Elves
Dorothy Alice Kinney
Services were held April 13, 2002, for Dorothy Alice Kinney, who died in Santa Cruz. She was 91.

Mrs. Kinney was born in Poplar, Montana. She had lived in Santa Cruz for 36 years.

In the early 1960s, Mrs. Kinney worked as the good witch and puppeteer at Santa's Village in Scotts Valley. She was a telephone operator for 10 years in Santa Cruz.

Mrs. Kinney was a member of the DeAnza Chapter of the Questers in Santa Cruz. She attended and volunteered at the First Congregational Church in Soquel.

She is survived by sons Neal Kinney of Los Gatos, and Gary Kinney of Scotts Valley; three grandchildren; and numerous nieces, nephews and cousins. Her husband of 49 years, Glenn Kinney, died in 1983.
---
Angela Combs Canright

Angela Combs Canright died Sept. 27, 2004, in Placerville. She was 94.

She was born in Chico, and had lived in Santa Cruz and Pollock Pines for many years.

She was known among friends and family as The Puppet Lady, for her long interest in puppet theater. She set up three puppet theaters at the now defunct Santa's Village in Scotts Valley, and was instrumental in establishing others at Happy Hollow and Frontier Village in San Jose and at Crazy Horse Campground and Ghost Mountain Ranch in El Dorado County.

She taught home economics at San Lorenzo Valley High School in the late 1950s. In Southern California, she was a teacher and a school principal. She also was involved in arts education.

She always looked forward to seeing daffodils bloom in the spring. Family members suggest those who want to remember her plant a few bulbs.

She is survived by daughter Jana Reid; son David Combs; three grandchildren; and two great-grandchildren.
---
Phyllis Livingston

Phyllis Joy Livingston died March 10, 2004, in Jackson. She was 80.

A native of Scotia, Mrs. Livingston was one of seven children. She lived in Scotts Valley from 1952 to 1982.

During her 30 years in this area, Mrs. Livingston was active in the Scotts Valley PTA and Cub Scouts in the 1950s. She was also one of the first employees of Santa's Village in Scotts Valley, where she worked as an "elf" in the gift shop for many years.

In later years she enjoyed traveling with her husband in their motor home in the United States and Canada, stopping in to see friends and family scattered across the United States.

She moved to Railroad Flat when her husband retired from Graniterock in 1982. She later moved to Jackson.

She is survived by son Jim Livingston of Santa Cruz; daughter Lana Hess of Mokelumne Hill; four grandchildren; and six great-grandchildren. She enjoyed a close relationship with daughter-in-law Corey Livingston of Santa Cruz.

Mrs. Livingston's siblings and husband of 54 years, LaVerne Wesley (Tarz) Livingston, died before her.
---
FLORENE HANSEN
Florene Hansen passed away on June 5, 2003 at Natividad Medical Ctr Extended Care Unit from Alzheimer's. She was 88 years old. Florene was born on Febraury 12,1915. She was a Santa Cruz resident of Scotts Valley for 39 years and 7 years in Aromas.

Florene and her husband, Carl (Hocus Pocus pictured right), dedicated their lives to entertaining children with special needs. They visited pediatric wards, Easter Seals camps and private homes whenever, asked bringing "Santa Claus" or "Hocus Pocus" to cheer the children. Together they started the annual Scotts Valley Halloween party for the children of the community.

Florene created all the Santa Claus suits used by her husband, Carl Hansen, while he was Santa at Santa's Village from 1957 through 1961. She created and made all costumes for her husband for his role as Hocus Pocus (KNTV Channel 11 - Children's show from 1961 through 1971). Florene was a mother and housewife. She belonged to the Felton Presbyterian Church and magic clubs with husband, Carl.

Florene is survived by her daughters: Judy Wells of Auburn, WA and Linda English of Aromas, CA; son-in-law: Rob English of Aromas, CA; grandchildren: Tamera Stone, Lori Stone, Amy English Haas & Ryan English and great grandchildren: R.J. Stone, Lauren Haas, Jacob Haas and Rhett Haas.
---
Susan M. Dunleavy
Susan Dunleavy passed away while in her sleep, at her Felton home on November 25, 2005. She was 45 years old. Born in Santa Cruz, she graduated from Soquel High School and was active as a youngster with the 4-H Club in Scotts Valley. Also while in her youth, Susan was employed as an "elf" in Scotts Valley at 'Santa's Village'.

She later attended college in Minnesota and earned her degree in accounting. She moved back to Santa Cruz and was employed with the former "Pretty Mama" boutique in Santa Cruz until the 1989 earthquake. For the past 17 years, Susan has been employed with the County of Santa Cruz as an accountant, and will be missed by the many dear friends and co-workers she leaves behind. Her family will forever remember her love for the Renaissance Era, attending the Renaissance Fair, and also her affinity for country western music.

She is survived by her husband of 11 years, Larry Dunleavy of Felton, her father and step-mother, Henry Zachau and Lula M. Zachau of Capitola, her mother, Monica Zachau of Wyoming, Minnesota, her two daughters, Sabrina A. Dunleavy of Sonoma State University, and Rachael Dunleavy of Sweet Home, Oregon. Susan also leaves her brother, Ray Zachau of Felton, her sister Rose Marie Newby of Wyoming, Minnesota, and also three nieces and one nephew.
---
Bobbie Nelson
President, Santa Cruz Association of Realtors
My first summer job was as an elf at Santa's Village in Scotts Valley. It was so fun. I did it for four years until I was too big to be an elf and too young to play Mrs. Claus. I wore a costume with leather elf shoes, green shorts and green tights. I ran the snowball ride, then moved up and was the first and only girl to run the antique car ride. I also was the train operator for two summers. One of my best memories was lunch in the birthday room.
---
John George Boetger
John George Boetger died Dec. 23, 2006 in Cameron Park. He was 83.
Mr. Boetger was raised in Plainview, Neb., and worked as a carpenter in Alaska after high school. He enlisted in the U.S. Army during World War II and toured Europe with the Army chorus after the war. Later, he earned a degree in veterinary medicine at Colorado State University.
He was a veterinarian at the Santa Cruz Veterinary Hospital from 1951 to 1972. He worked with large animals and his patients included seals on the wharf and Santa's reindeer at Santa's Village in Scotts Valley.
Mr. Boetger belonged to the 20/30 Club, the Elks and the Santa Cruz Small Craft Harbor Commission during his time in Santa Cruz. In Cameron Park, he was a past-president of the Rotary Club.
Mr. Boetger also enjoyed camping, golf, fishing and woodworking.
He is survived by his wife of 56 years Sally Boetger of Cameron Park; daughters Carol Hinkle of Reno, Nev., Judy Newland of Truckee and Diane Forrest of Sperryville, Va.; son Michael Boetger of Cameron Park; and seven grandchildren.
---
Howard Harrison Hurlburt Jr
Son of Adele Armstead and Howard Hurlburt born in Jamaica, Long Island New York, May 12, 1933. Howard left this world December 5th 2006 surrounded by his family after a long illness. He was 73.

Howard grew up in NY working through High School to support his family.

He and his beloved friend Joe fond memories of working at the World's Fair in NY They were recently able to spend time together which brought much happiness to Howard's last days

At 17, Howard joined the United States Coast Guard, was stationed on the ship UGC ROCKAWAY at St. George, NY. During that time he worked in the engine room where he learned many of his mechanical skills he utilized all of his life. He received the National Defense Service Medal and Good Conduct Medal before his departure in 1954.
In 1981 he married his beloved wife Sue Harrison. Howard and Sue enjoyed going boating/ fishing locally. They were best friends and shared good times as well as depended on each others strengths for life's challenges.
Howard's occupations included working for the Ca Dept Forestry, and the County of San Francisco. His business venture's included running a small Construction Co and owning two Cocktail Lounges. His last position was managing the Holiday Host RV Park located at the old Santa's Village in Scotts Valley until it was destroyed in the 1989 Loma Prieta earthquake.
He is survived by his loving wife, Sue, his children, Glenn Hurlburt, Laura Gray, David Gia Francis. He is also survived by his nephew Frank Mulback Jr. and 11 grand children.
---
If you have any souvenirs, pictures or stories to contribute, you
can email us here. If you need to mail your photos to us, be sure
you send us the copies of the originals or included a SASE so we
can return them after scanning. eMail to:
santasvillage.net AT gmail.com
This part of Santa's Village memories are always going to have new names added to it as people like you send us their photos of the Christmas theme parks. You can take photos of the Santa's Village items you've collected and email them to us. Go to the closet and dig out those old family photos from when you visited Santa's Village ... even better, if you have home movies of Santa's Village, we'd really love to have a copy for publication.
Maybe you don't have any photos, but you remember what it was like when you visited Santa's Village ... sit down and write about your memories, email it to us, and we'll add your memories to our web site too!
Do you own one of the rides from the old Santa's Village theme park or some of the props? We want to know where are they now?
---
Sponors of Santa's Village:
Christmas Kids - a delightful website full of historical information about Christmas.