Santa's Village - Glenn Holland
H. Glenn Holland (1918-2002) was a developer from Arcadia, California who established the first franchise of amusement parks, Santa's Village. Holland grew up during the Great Depression and his parents died by his eighteenth birthday, leaving him to care for his younger sister. Holland dreamed of giving his children and other children the type of Christmas he only knew in his dreams.
"He wanted Christmas to be just magical," said Holland's daughter, Pamela Holland Reece, 63, of Fallbrook, Calif. "He always thought that children should have adventures and great happiness in their lives. He wanted to make that come true."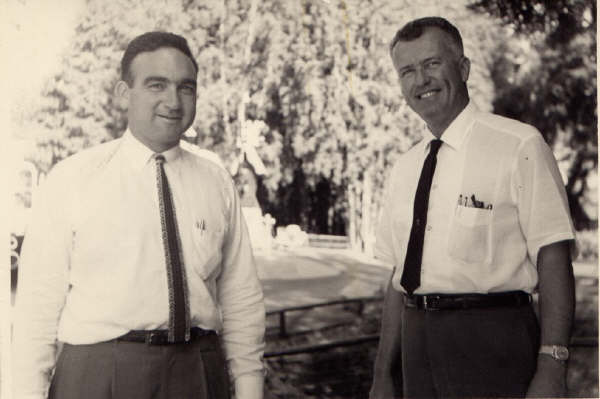 In 1953, Holland (picture to the left above with Putnam Heneck) proposed Santa's Village after reading a Saturday Evening Post story about a similar project called North Pole in New York. Holland set up a corporation that funded the amusement park, and leased the land from the family of the general contractor J. Putnam Henck.
In the early 1950's struck with inspiration, Holland sat at his kitchen table one day and started to sketch his idea of a Christmas fairyland filled with enormous candy canes, animals and gingerbread houses where all the magic of the holiday would come to life. Holland developed this idea into a working plan and began finding investors for his project. He traveled the country selling his Santa's Village concept and $45 stock shares and eventually listed his new company, Santa's Village Corporation, on the California Stock Exchange.
Around the same time, Walt Disney was building Disneyland. So Holland contacted Disney, and the two men reportedly corresponded for a time. But while Disney was already wealthy from his films, Holland was an unknown.
Glenn Holland was also good friends with Dick and Mac McDonald. The McDonald brothers told him about their business idea with Ray Kroc for a chain of fast-food restaurants. The story inspired Holland to create the first amusement park franchise, Santa's Village.
The first Santa's Village opened Memorial Day in 1955, six weeks before Disneyland, in Skyforest near Lake Arrowhead in San Bernardino County, California. (Closed 1998). A second Santa's Village opened in 1957 near Scotts Valley in Santa Cruz County, California. (Closed 1979). The last Santa's Village was opened in 1959 in the Chicago suburb of East Dundee and closed in 2006.
Despite the park's early popularity, Holland had not planned for the freezing weather in Illinois. While his West Coast parks stayed open year-round, doing their best business in the weeks before Christmas, the Chicago area was too cold. Eventually, Santa's Village in East Dundee was in the odd position of being closed on Christmas.
The miscalculation helped lead to the collapse of the company. Holland found himself stretched thin. By 1965, investors rebelled. Holland was close to a nervous breakdown, according to his daughter. Heartbroken, he left the company. The parks were sold.
"Where he made the error was going on and doing the final one in Illinois. It was just not financially a good idea," said Reece, his daughter. "But he knew he had touched people with the parks. It was the most special thing he felt he had ever done."
Holland, who later became a real estate developer, died in 2002 at 84.
---
MORE HISTORY ...
Santa's Village takes great pride in presenting the book that commemorates the Dundee Santa's Village in Illinois. It's written by the last Santa Claus of the Santa's Village parks, and his historical knowledge of all the parks will delight you with insidghts and memories alike. Get your copy of Santa's Village here.
Images of America
SANTA'S VILLAGE
PHILLIP L. WENZ
Since 1959, Santa's Village in Dundee, has entertained millions. The park was born of a man who as a child had no real Christmas. Glenn Holland grew up in California during the Great Depression. His parents died by the time he was 18 years old, leaving him to care for his younger sister. As a father, he tried to give his own children the type of Christmas that he only knew in his dreams. In the early 1950s, struck with inspiration, Holland sat at his kitchen table one day and started to sketch his idea for a Christmas fairyland where all the magic of the holiday would come to life: Santa's Village. Holland and general contractor Putnam Henck built three Santa's Villages, two in California and one in Dundee.

Phillip L. Wenz is the Dundee Park's resident Santa Claus and official historian. Besides his duties at Santa's Village, Wenz has been seen in numerous televised parades and national holiday events. Utilizing his personal collection of pictures, memorabilia, and rare park photographs, readers can once again reminisce about the fun of Santa's Village throughout the years. It is all here, the Christmas Tree Ride, the twirling Snowballs, Santa's House, and the Frozen North Pole.
The Images of America series celebrates the history of neighborhoods, towns, and cities across the country. Using archival photographs, each title presents the distinctive stories from the past that shape the character of the community today. Arcadia is proud to play a part in the preservation of local heritage, making history available to all.